Jim Swing
Sports Editor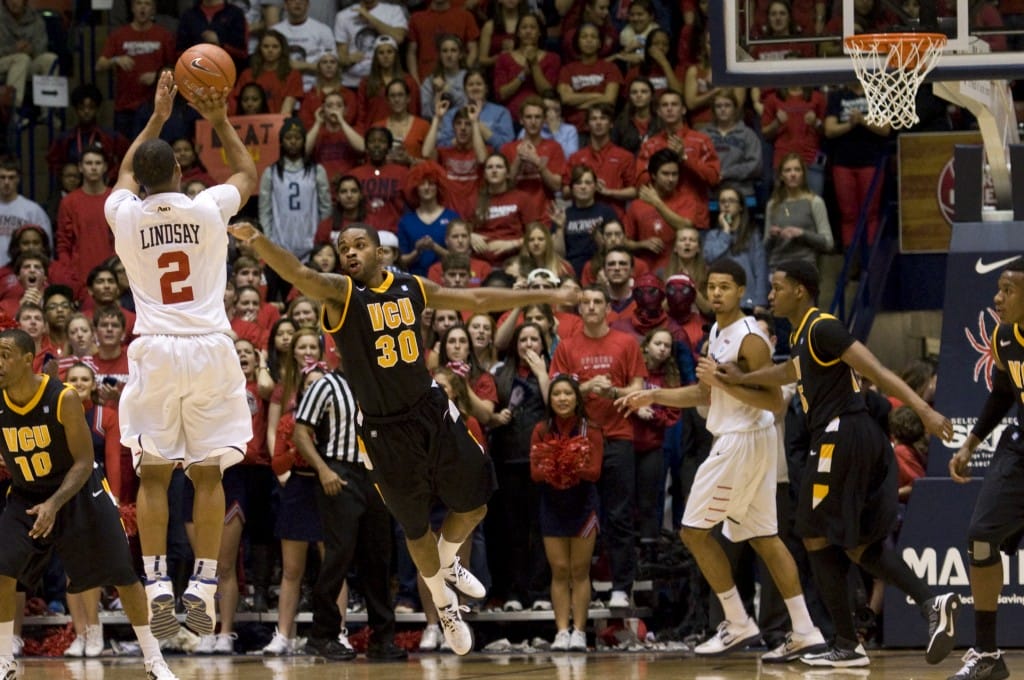 It went from being all but over, to a completely different outcome in a swift manner.
VCU had finally broken away from Richmond, and was holding onto what seemed like a firm seven point lead with 42 seconds remaining in the latest installment of the crosstown rivalry.
At that point, it would take a miracle for the Spiders to unravel themselves out of this web.
Then POOF, game tied, going to overtime. What happened in those 42 seconds would essentially break VCU's 13-game winning streak, install a cold dose of reality and leave Richmond with the city's temporary bragging rights.
"I'm sure it was a really entertaining game to watch," VCU head coach Shaka Smart had to say after the game. "Unfortunately, that's not the word I would use to describe it for us."
The two teams traded punches for the better part of 40 minutes before VCU finally got some separation. But it didn't last long. A foul by Rob Brandenberg led to a pair of free throws by Richmond's Cedrick Lindsay to cut the lead to five with 38 seconds to play.
Juvonte Reddic nailed down a pair of free throws to push the lead back to seven.
From here on out, all VCU needed to do was hit its free throws and the game would be over. Every. Single. Free throw.
But it couldn't. Lindsay, who had 13 points, buried a jumper. Treveon Graham missed one of his free throws at the other end that would turn out to be a needle in the haystack of costly errors VCU made down the stretch.
Perhaps the biggest mistake came on the following possession. Troy Daniels committed a shooting foul on Kendall Anthony in three-point territory.
Naturally, with the way this game was headed, Anthony hit all three free throws to make it a single possession game.
Then Daniels hit 1-of-2 when he needed both. Anthony, Richmond's savior, knocked down a 3-pointer to cut the VCU lead to one.
Daniels redeemed himself by hitting a pair of free throws on the next possession. Finally, VCU was humbled by all its mistakes it had made in the last 42 seconds.
Rather than fouling with a three-point lead, VCU let the game play out. In a moment you could feel coming, Darien Brothers came off a screen and buried the game tying 3-pointer with just less than two seconds left in regulation.
Asked if he wished he would have had his team foul on Richmond's final possession, Smart said: "In retrospect, we should have fouled, but we didn't."
Suddenly, the Rams were victims of the style of winning they had achieved a week before against St. Joseph's.
Richmond outscored VCU 17-5 in overtime on its way to an 86-74 that turned the city, and the sold-out crowd upside down.
"It's very, very tough for teams to respond after what happened in regulation," Smart said.
"They just made big plays and we give them a lot of credit," said VCU point guard Darius Theus.
There was a number of miscues the Rams could look back on that occurred on a larger scale than those 42 seconds.
There was the 3-for-17 shooting from deep that couldn't counteract Richmond 12-of-27 from long range. There was the even turnover ratio, which took away VCU's main recipe for success.
There were the fouls that limited VCU's roster in the first half. Graham, the Rams leading scorer, picked up two fouls and was held scoreless after running the court for just 13 minutes before the break. Reddic played just 11 minutes in the first half after committing three fouls.
VCU suffered its first loss since Nov. 24 against Missouri in the Bahamas. It was the Rams worst loss since a 15-point loss to Seton Hall on Nov. 17, 2011.
"Coach has been telling us all week 'don't get comfortable with success,'" Theus said. "And we got smacked in the face."